Bold & Beautiful Quilters
by Quilting Adventures Pro
April 6—14, 2024
Come sail with us to the Southern Caribbean as we visit
Aruba...Curacao… and Labadee, Haiti.

The beautiful islands of Aruba and Curacao are so colorful and inviting, plus we get a day at Royal Caribbean's private beach destination of Labadee, Haiti.
The Southern Caribbean is a great backdrop for our quilting days at sea.

Pricing begins at $2105/person.
Visit Bold & Beautiful Quilters | Quilt Adventures for more cruise details.​

Printable Flyer
Your Educator:
Jacquelyn Morris Smith
I have been sewing since a very young girl and found my true passion in the world of quilting in 2007. I took many lessons, learned the hard way, made lots of mistakes, had uneven seams, wonky and uneven blocks, forced the blocks together, and still I have progressed. I love to teach others, after all, since I have made all the mistakes no one else has to. My teaching goals are simple: to let students learn a technique and find their way out of an "ooops" moment. There is nothing that can't be fixed, and I like to see my students having a stress free, fun-filled time and all the while finishing with a positive experience.
I began teaching quilting in 2009 while working at a quilt shop in Green Valley, AZ. I enjoyed that experience as it forced me to learn even more techniques than I wanted to learn. I have been privileged to speak and teach at several guilds in Arizona, California and Utah – as well as on cruise ships.
Jacquelyn designed a unique project just for this cruise. See below for more information.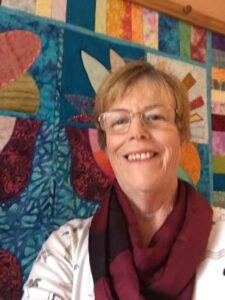 Cruise Project:
Hattie's Star Path
Jacquelyn has made quilts for most members of her family- except for her Grandparents who all were deceased before her 18th birthday.
Hattie Pearl Stover DuVall is her maternal grandmother. When AccuQuilt came out with the Die entitled Hattie's Choice, she had to make this quilt for her Granny Hattie.
In the very early 1900's, Granny Hattie was born in Arkansas where she lived until 1941. Jacquelyn felt obligated when she found out that Hattie's Choice was an actual quilt pattern and decided this would be her gift in memory of her much-loved Grandmother. She hopes you will enjoy stitching this quilt top as much as she is excited to be able to share it with you.
All quilting classes are held during our time at sea. Evening Open Sewing hours are also scheduled during the cruise. A fabric kit (includes some precut fabrics) is included with your cruise package.

Itinerary:
6 April 2024: Depart Ft Lauderdale at 4:30pm – Make & Take sponsored by Janome

7 April 2024: Quilting & Cruising Day at Sea – Welcome Aboard Cocktail Reception – Evening Open Sewing

8 April 2024: Quilting & Cruising Day at Sea – Evening Open Sewing

9 April 2024: Day in Aruba from 8am to 9pm –

10 April 2024: Day in Curacao from 8am to 6pm – Evening Open Sewing

11 April 2024: Quilting & Cruising Day at Sea – Afternoon Quilting Event – Evening Open Sewing

12 April 2024: Day in Labadee, Haiti from 8am to 5pm – Evening Open Sewing

13 April 2024: Quilting & Cruising Morning at Sea – Afternoon Quilting Event – Farewell Party

14 April 2024: Arrive Ft Lauderdale at 7am – Disembarkation per Royal Caribbean
Please remember to
add Cactus Quilt Shop
to the
"How Did You Hear About Me" box!
Ship Info:
Go big on bold when you sail aboard one of the largest cruise ships in the world.
​
A FOODIE FANTASY
If you're craving high-end eats, Symphony of the Seas® hits all the high notes. Fresh caught New England-style seafood, family style Italian from Jamie Oliver and much more.
MARQUEE SHOWS
Catch jaw-dropping performances on stage, ice, water and air with entertainment that transcends the stage — literally.
More Ship Details​